As 2021 drew to a close, inflation finally forced the Bank of England's hand and the UK base rate was raised from their record low of 0.1% to 0.25%. In February, we saw a second increase from 0.25% to 0.5%.

The Money Policy Committee at the Bank of England meets eight times a year to review the base rate. We have got used to low base rates and have to go back to March 2009 for the last time that they were 1% or more.

Tackling rising inflation
Raising the base rate is a policy which can help to control inflation. As rates rise, borrowing becomes more expensive and savings rates should increase, which therefore makes saving more appealing. Encouraging more saving and less spending can help to control inflation, however there are many wider social and economic factors that will also impact inflation.
During 2021 we have seen annual inflation, measured by the Consumer Prices Index, rise from 0.7% in January 2021 to 5.5% in January 2022.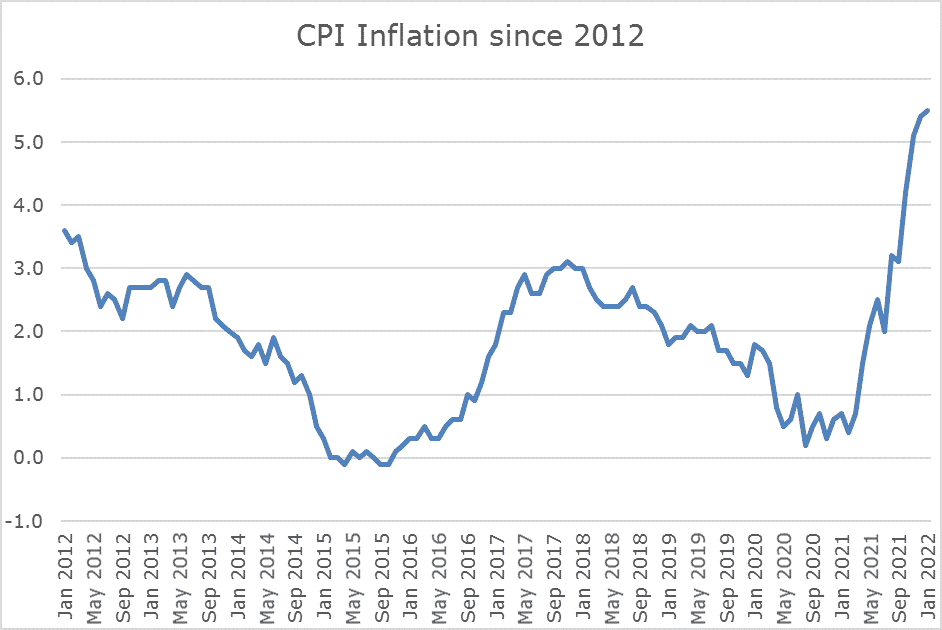 Source: ONS.

It is easy to see why the Bank of England have looked at raising the base rate, given their long term inflation target is 2%. The November inflation figures, released in mid-December, once again exceeded the Bank of England's (BoE) expectations. At the start of November, the BoE had said that CPI inflation was "expected to peak at around 5% in April 2022".

However in its February 2022 Monetary Policy Report, the Bank of England forecasted inflation to peak at around 7.25% in April. Inflation will continue rise in the early months of this year. This is due to the large increases in oil and gas prices that have pushed up petrol prices and utility bills, as well as higher prices for goods bought from abroad. The Bank of England then expects inflation to fall from its elevated level around the middle of 2022. This is because energy prices shouldn't continue to rise as fast and the product supply shortages should ease. The Bank of England expects inflation to be close to, but just above the 2% target in around two years' time.

Even if there are signs of an easing in inflation, we fully expect the Bank of England to continue to tighten monetary policy throughout 2022. The latest Monetary Policy Report in February 2022 suggests that interest rates will rise to around 1.5% in mid-2023, which is higher than the November Monetary Policy Report. However, current market pricing suggests 1.5% by the end of 2022.

Inflation reduces the value of cash
Everyone has their own personal rate of inflation, depending on what you buy, because inflation is not constant across all goods and services. For example, November's data showed that whilst overall inflation was 5.1% a year, in the 'health' category prices rose only 1.4% across the 12 months; however, for transport (for example petrol prices and secondhand cars) the annual increase was 12.5%. With energy prices also set to rise, households with a higher proportion of income spent in these areas will be hit hardest.

The buying power of your cash savings is depreciating fast. Even with the base rate increase, over the course of a year a deposit of £1,000 would earn £5 (before tax) in interest at base rate, while current inflation would erode your buying power by about £50.

If you are still working, your next pay rise is unlikely to cover the reduction in your buying power. In addition the Basic State Pension is set to only increase by 3.1% in April. The additional 1.5% to the rates of National Insurance contributions also takes effect in April. For example, if you earn £40,000 a year, you will need a pay rise of 8.2% to maintain the buying power you had a year ago. If you are in receipt of an index-linked pension, it is unlikely that any rise this year will cover the real cost of prices rising.

What financial planning actions should you take?
A changing financial environment prompts the need for financial reviews. It may be a good time to review your budgeting to review your outgoings and to check for payments that you no longer need or may not benefit from, such as subscriptions or memberships.

Your financial adviser can also help you to review any life assurance or income protection cover that may not be inflation-proofed, to ensure that it continues to meet your needs.

If you are using your investment portfolio to generate income, higher inflation may mean that you need additional sources of income to maintain your lifestyle. Similarly, if you are not yet using your investment portfolio to provide income, this could help to bridge the gap between your current income and the potential increase in your outgoings. We can help you make the right decisions to do this tax efficiently whilst taking into consideration your financial goals.

As inflation and the rise in National Insurance contributions increase living costs, our financial advice services can provide the necessary support and a timely review to help minimise the impact for you and your family.

Book a review with your Origen adviser today by calling 0345 209 3925 or email clientservices@origenfs.co.uk. Calls are charged at your phone company's basic rate. All calls are recorded for business purposes.

The value of your investment and any income from it can go down as well as up and you may not get back the full amount you invested. Past performance is not a reliable indicator of future performance.

CA7558 Exp 02/2023