As people in the UK live longer, more of us will need some form of long term care now or in the future. Long term care can range from providing assistance at home, sheltered housing which is suitable for your needs, care homes or intermediate care to help you recover after an operation or illness. Long term care also includes respite care for partners or carers who provide care support.

What support is available?
According to AgeUK the average costs of living in a care home in 2017 were around £600 a week and can increase to around £800 a week if nursing is also required. With the average stay in a care home of 130 weeks, resulting in £104,000 in this example, it is easy to see how long term care costs can wipe out lifetime savings. These costs are also likely to have risen since.

The support provided by the government is means tested which will assess the assets of the person needing the care which may include savings, property, investments, pensions and any benefits. The limits vary as follows:

If you exceed the lower savings threshold, you are expected to have to pay towards the care costs, and if your assets exceed the upper savings threshold you are expected to pay the full care costs.

However there is further assistance, a Personal Expenses Allowance which sets a weekly amount of money for personal needs for people who receive local authority arranged care in a care home. This allowance means that not all of a person's income is put towards paying care home fees, ensuring that a minimum amount of income is retained to spend as the individual wishes as follows:

How can you manage care costs?
If you need long term care, the first step is to contact your local council who will carry out a means test. Financial advice can also be valuable whether you have an immediate need or if you are planning ahead. Long term care is a specialist area of advice and many of our advisers have the required qualification to provide advice in this area. Our advice can help you work out the best way to fund care, which care option best suits your needs and estimate how much money you might need for your care.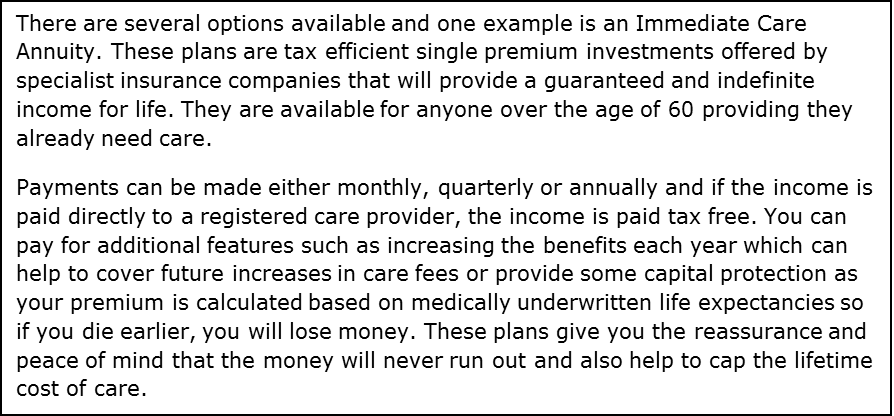 Our expertise can help you to understand a complex care system, particularly if you're facing the stress of urgent care needs. We can help you to make the best use of your income, savings and assets, particularly if you own your home and ensure that all care-funding options are carefully considered. We can also identify other benefits available which can also help towards the ongoing costs.

Looking to the future
Social care is undeniably in need of reform and there have been many commitments to review and update the system. Long term care has been on the government agenda for many years, following Dilnot's report in 2011, a green paper outlining their proposals was to be published in 2017 and is due to be completed in 2021. Social care spending on the over 65s is estimated at £21.2 billion (in comparison to the estimated cost of the Covid furlough scheme of over £100 billion), and Local Government Association estimate a social funding gap of £3.56 billion by 2025. Independent Age believes that 143,000 elderly people will face care costs of £100,000 or more under the current system.

While there is a need for reform, it is important that you plan ahead to protect your own assets and those of your family, to meet long term care needs.

Our advice will help you to make a fully-informed decision about the best way to pay for care and to provide for future care needs for you and your family.

This update is intended to be for information only and should not be taken as financial advice.The value of tax reliefs depends on your individual circumstances. Tax laws can change.

Origen Private Client Solutions is a trading name of Origen Financial Services Limited which is authorised and regulated by the Financial Conduct Authority.
CA6937 Exp 07/2022