The Financial Conduct Authority (FCA), the regulator for financial services firms and financial markets in the UK, says that many savers may have too much cash and face the risk of wealth erosion.
FCA research suggests that over half of adults with investable assets over £10,000 hold more than 75% of their investable assets in cash.
The FCA has commented "Over time, these consumers are at risk of having the purchasing power of their money eroded by inflation". The latest inflation figure in November, showed the Consumer Price Index (CPI) as 5.1%, while the best fixed interest rate is around 2.00% on a five-year bond.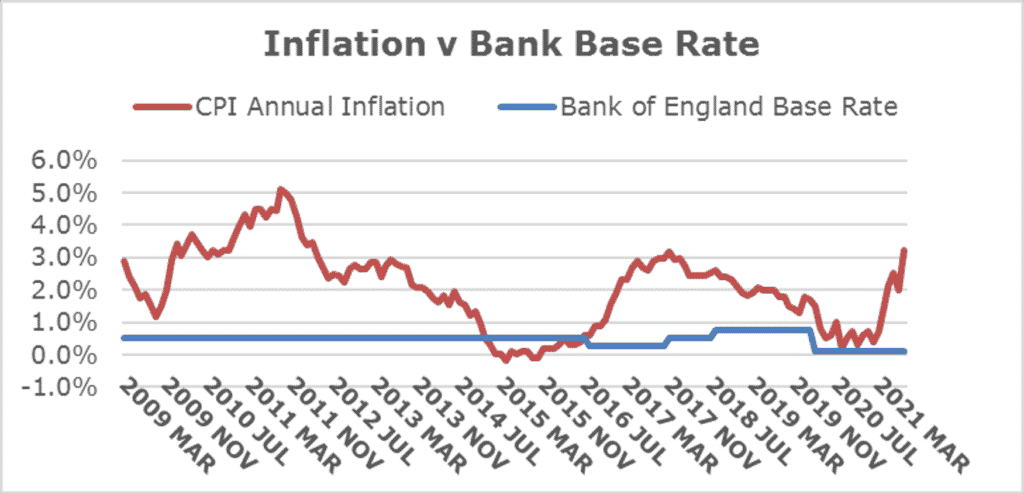 Despite the 0.15% bank base rate rise to 0.25% announced on 16 December, the Bank of England has already said it doesn't expect the base rate to be above 1% by the end of 2022. If higher levels of inflation continue into next year and beyond, there is a real danger that inflation will run significantly above interest rates, therefore reducing the spending power of cash savings.

A place for cash
We believe all clients should hold an emergency fund in cash, or a cash-like investment such as premium bonds. Surplus funds over and above this amount should be invested for the future in line with your attitude to risk.
Cash generally is not a good long term growth asset and, at present, the returns offered by bank accounts are likely to be less than inflation and so their value falls in real terms.

However, people prefer to hold more money in cash than they need to. This may be because they are anticipating a large expense in the short/medium term, they have no need or willingness to take investment risk with their money, or feel they already have sufficient assets exposed to investment risk.

We recommend holding between three to five months of expenditure as cash savings for unforeseen emergencies.

Investing the right way
Invested assets need to be managed carefully and our advice is tailored to your circumstances and objectives. We use our expertise and experience to review your portfolio, so that the overall balance suits your own objectives and attitude to risk. We ensure that you fully understand the risks of any investment, as well as the inflation risk of holding funds in cash.

We use a panel of investment funds and products which are continually reviewed and updated by our Research and Investment Team, to ensure your money is invested appropriately and to protect you from scams or unsuitable investments.

We offer regular reviews to ensure that the investments perform as expected and that they continue to suit your objectives and attitude to risk.

Ask your adviser to find out how we can get your cash working harder for you or contact our Client Services Team on 0344 209 3925 or by email at clientservices@origenfs.co.uk.
Calls are charged at your phone company's basic rate. Our lines are open 8:30am to 5:30pm, Monday to Friday. All calls to Origen Financial Services Limited are recorded for business purposes.

The value of your investment and the income from it can go down as well as up and you may not get back the full amount you invested. Past performance is not a reliable indicator of future performance.

This article is intended to be for information only and should not be taken as financial advice.

Origen Private Client Solutions is a trading name used by Origen Financial Services Limited which is authorised and regulated by the Financial Conduct Authority. Our FCA registration Number is 192666. Our Registered office is: Ascent 4, Gladiator Way, Farnborough, Hampshire GU14 6XN and registration number is: 03926629.

CA7349 Exp 12/2022