A new UK Study has found that the majority of UK adults are unaware of how much money they have saved in their retirement pots.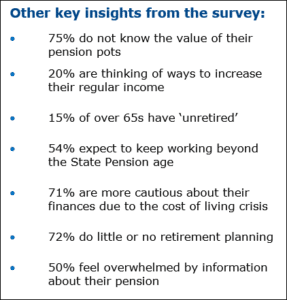 Standard Life's Retirement Voice study, which surveyed nearly 6,000 savers, found around three quarters of respondents at all age groups did not know how much money they had saved into a pension. Most concerning was that this figure was highest (79%) for those aged between 54 and 65, a critical time when individuals should be planning for their retirement and making decisions on their income options.
The next highest group was individuals aged 65 to 80, where 77% were not aware of how much they had in their pension pot.  This is also concerning, as it suggests the majority of retirees will not know whether they have sufficient savings to meet future spending alongside their retirement goals.
The research did however highlight the benefits of regular financial planning, with 66% of individuals who 'plan' their finances feeling positive about their financial situation;  whereas only 22% of 'non-planners' felt positive about their situation. People who received professional financial advice were unsurprisingly the most assured in their financial decision making.
Lost track of your pensions?
In order to achieve your retirement goals, the starting point is to understand what you currently have in your pension, as well as other savings and investments.
For workplace and personal pensions you should receive at least an annual statement which is sent to you from your pension provider. Additional things to check are the fund choice, ongoing charges and the options to draw income in retirement. If you are yet to retire, your annual statements can also provide an estimate of your future pot value and retirement income that this may generate. You can also check what you currently contribute and make additional payments into your pension at any time you like.
If you don't receive an annual statement, contact the pension provider quoting your plan number, National Insurance number and your date of birth. If you had a workplace pension scheme, a scheme arranged by a previous employer, you might want to contact the employer in the first instance.
If you're still struggling to make progress, you can contact The Pension Tracing Service, a free government run service which helps people to trace their lost pensions. They will need the name of your previous employer(s) or pension scheme(s). Try to provide as much information about the employer as possible, such as:
any previous names your employer had
the type of business it ran
whether it has changed address
when you were an active member of the pension scheme.
You can also find out more information about the Pension Tracing Service by visiting www.gov.uk/find-pension-contact-details, or by calling them on 0800 731 0193 (Monday to Friday 10am to 3pm).
Our view
We often advise clients who are not fully aware of the value of their pension savings, the options available to take their pension, or how to best use their savings during retirement.
This research highlights that individuals aged between 54 and 65 were most likely not to know the value of their pension savings – it is generally this age group who are in a worse position, some with pensions that were set up decades ago, potentially with higher charges, small fund ranges and no option for flexible withdrawals. Their default fund may also be set to a lifestyle option based on a standard retirement age, for example age 60 or 65, whereas the client may now be planning to work beyond this age. This could result in their pension being moved into cash sooner than required, often with high contract charges that erode their savings.
How Origen can help
In order to plan for a secure future, it's vital to engage with your finances and seek financial advice as early as possible. Whatever your priorities for retirement and the pension schemes  you belong to, we will guide you through every step of the process, from helping you to track down information on all your existing pensions, to understanding your objectives and providing options to ensure you can meet them.
This way you can start enjoying your retirement with financial confidence.
CA10083 Exp:05/2024