We generally recommend that you hold investments for the medium to long-term, which we would view as being for five years or more. The monthly market commentary provides an insight into the current factors that are affecting short-term global returns, but should not be viewed as a basis for making long-term investment decisions. You should consider your own investment goals and timeframes before making any such investment decisions. If you do have any concerns about where your money is invested, please contact your Origen adviser.
Introduction
Most global markets finished September lower, with the UK the main outlier as the FTSE 100 posted a gain amid a fall in inflation and resilient economic data. Concerns over interest rates remaining higher for longer weighed on other equity markets. Emerging markets outperformed developed markets, although they still ended with losses. UK fixed income markets ended the month slightly lower, as the expectation of a prolonged period of higher interest rates weighed on sentiment.
Economic Overview      
UK
Bank of England and Interest Rates
In what was a slightly surprising decision, the Bank of England ended a run of fourteen consecutive rises as it left its interest rate unchanged at 5.25%. The decision followed the announcement that inflation had fallen by more than expected in August, with the BoE's Monetary Policy Committee (MPC) voting by a narrow margin of 5-4 to leave the interest rate unchanged, with Governor Andrew Bailey having the deciding vote. The MPC said "There are increasing signs of some impact of tighter monetary policy on the labour market and on momentum in the real economy more generally", with the forecast for economic growth in the third quarter being cut from August's projection of 0.4% to just 0.1%. In addition, the BoE said economic growth for the rest of the year is likely to be weaker than previous forecasts, stating that there were "increasing signs" that higher rates were starting to hurt the UK economy. Record increases in wages have been a major concern for the BoE, but the bank noted that it was not being supported by other measures of the labour market. However, the BoE does expect services inflation to remain elevated.
Whilst the interest rate was left unchanged at this meeting, the MPC reiterated that it is prepared to raise borrowing costs again should there be evidence of more persistent inflationary pressures. Furthermore, the MPC also repeated previous guidance that monetary policy would be "sufficiently restrictive for sufficiently long" to return inflation back to its 2% target. In addition, as expected the MPC agreed to increase the pace of its programme to shrink the massive stockpile of government bonds that have been acquired over the last decade and a half.
Economic Growth
The Office for National Statistics (ONS) said the British economy contracted by more than expected in July, amid negative impacts from strikes and unusually wet weather. The economy was reported to have shrunk by 0.5% in July, which was worse than all economists' predictions that had indicated a 0.2% contraction, whilst it followed 0.5% growth in June. For the three months to the end of July, the economy grew 0.2%, with the ONS stating the "broader picture" for the country looked "more positive". The ONS said the health sector was the biggest driver of the unexpectedly sharp contraction, noting increased industrial action by doctors had led to nearly 200,000 cancelled appointments. There was also a negative impact from strikes at schools in England. The unusually rainy weather in July also weighed on output at retailers and in the construction sector. There was a small boost to the economy from a "busy schedule" of sporting events and increased theme park visits.
Economic growth for the second quarter was confirmed by the ONS to be 0.2%, in line with the preliminary estimate, whilst the expansion in the first quarter was revised higher from 0.1% to 0.3%. Household consumption rose, as did fixed investment, with a notable increase in business investment. Government spending increased, but net trade produced a negative contribution as exports fell whilst imports were higher. The ONS also said the British economy was 1.8% larger in the second quarter compared with the final quarter of 2019, the last full quarter before the start of the pandemic. The economy was previously estimated to have been 0.2% smaller than pre-pandemic, with the upward revision meaning Britain has now seen faster growth than Germany and France over this period, although it is still well behind the US. The upward revisions were broadly in 2020 and 2021, during the height of the pandemic.
Unemployment & Labour Market Statistics
British unemployment rose in the three months to July from 4.2% to 4.3%, the highest level since the three months to September 2021. This meant the rate had moved further above the Bank of England's August projection of 4.1% for the third quarter as a whole. The rise in unemployment was broadly driven by people unemployed for up to 12 months. The estimated number of job vacancies in the three months ending August fell for the 14th consecutive time by 64,000 to 989,000, the first time it has been below one million in two years. The economic inactivity rate, which is the share of people not in work and not looking for it, rose to 21.1% in the three months ending July, largely due to people aged 16 to 24 years, whilst those inactive because of long-term sickness increased to another record high.
Wage growth remained strong, with regular pay excluding bonuses seeing annual growth of 7.8% in the three months to July, matching the previous period and remaining at the highest ever rate since comparable records began in 2001. When adjusted for inflation, annual regular pay growth rose by 0.6%. Employee's total pay, which includes bonuses, rose by an annual 8.5%, which was again affected by the one-off public sector bonus payments in June and July. In real terms, total pay increased by 1.2%.
Inflation
The headline annual rate of UK inflation, as measured by the Consumer Price Index (CPI), unexpectedly fell in August to its lowest rate since February 2022, whilst core prices were also weaker than expected. The ONS said CPI fell from 6.8% in July to 6.7% to August, which although only a small fall, had been expected to rise to 7%. The slowdown in the pace of headline inflation was driven by a fall in often volatile hotel prices and air fares. In addition, food prices rose by less than a year ago with milk, cheese and egg slowing the most, whilst fish and vegetable prices also eased. However, there was a jump in global fuel prices and an increase in a tax on alcoholic drinks.
Core inflation, which excludes food, energy, alcohol and tobacco prices, dropped sharply from 6.9% in July to 6.2% in August, well below the forecasted smaller fall to 6.8%. Service sector inflation also eased as it slowed from 7.4% to 6.8%. There was also positive news from factory gate prices, which can be an indicator of future inflationary pressures, as these fell 0.4% in the 12 months to August, whilst manufacturer's input prices dropped by 2.3%.
US
US Federal Reserve and Interest Rates
In line with expectations, the Federal Reserve (Fed) left interest rates unchanged in the 5.25% to 5.5% range, but the updated quarterly projections suggested there could be one more increase later this year and that rates would then be kept significantly tighter through next year than previously expected. The Fed Chair Jerome Powell said "we want to see convincing evidence really, that we have reached the appropriate level" of interest rates to return inflation to its 2% target, a judgment the policymakers have not yet made. Mr Powell also said a "solid" economy with still "strong" job growth will allow the central bank to keep the pressure on financial conditions through 2025 with much less of a cost to the economy and labour market than in previous US inflation battles. Even with inflation falling during the rest of this year and into next, the Fed anticipates only modest initial cuts to its interest rate. The Fed's median forecast for US economic growth this year is now 2.1%, five times where it was at the beginning of 2023 and well above the 1% projection in June, whilst for 2024 the estimate has risen from 1.1% to 1.5%.
Economic Growth
In its third estimate, the Commerce Department said the US economy maintained its steady pace of growth in the second quarter, as it reported that GDP expanded at an unrevised 2.1% annualised pace. A downward revision to growth in consumer spending from 1.7% to a more sluggish 0.8% was offset by a sharp upward change to business investment in factories, which have benefited from President Biden's push to bring semiconductor manufacturing back to the US. Households were reported to have spent less than previously estimated on utilities and motor vehicle maintenance and repairs, as well as on furnishings and long-lasting household equipment, clothing and footwear. Economic growth in the first quarter was revised higher from 2% to 2.2%.
Inflation
US consumer prices rose in August by the most in 14 months, amid a surge in gasoline prices, but the increase in underlying inflation was the smallest in nearly two years. In line with expectations, the Labor Department said the Consumer Price Index (CPI) rose by 0.6% in August, the biggest gain since June 2022, having increased by 0.2% in each of the previous two months. Gasoline prices jumped 10.6%, having risen by 0.2% in July, accounting for more than half of the increase in the CPI. The cost of shelter continued to rise, but rents are moderating. Food prices increased 0.2% for the second consecutive month. Grocery food prices were 0.2% higher, easing from the 0.3% gain in the previous month as cheaper dairy products, fruit and vegetables partially offset more expensive meat, fish and eggs. For the twelve months through August, CPI rose 3.7%, having increased 3.2% in July, the second consecutive month where the pace of annual inflation has risen.
The so-called core CPI, which excludes volatile food and energy components, rose 0.3% in August, just above the 0.2% reading seen in the previous two months. The 1.2% fall in prices of used cars and trucks was offset by higher costs for motor vehicle insurance, hospital services, prescription medication and household furnishings and operations. New motor vehicle prices were 0.3% higher, the largest gain since March, which helped slow the pace of goods deflation. Core goods prices fell 0.1%, having dropped 0.3% in July. Core services prices rose 0.4% for the second consecutive month, broadly due to a 0.3% increase in the cost of shelter. Owners' equivalent rent, which is what a homeowner would receive from renting a home, rose 0.4% having gained 0.5% in July. Higher jet fuel prices contributed to a 4.9% rebound in airline fares, but the cost of hotel and motel accommodation fell 3.6%. Services less rents jumped 0.5%, which followed a 0.2% rise in July. For the twelve months through August, core CPI rose 4.3%, the lowest year-on-year increase since September 2021 and followed a 4.7% gain in July.
Europe
European Central Bank and Interest Rates
The European Central Bank (ECB) raised its key interest rate by 0.25% to 4%, the 10th consecutive increase and a record high, although it was noted that some board members did not wish to raise rates, but a majority of governors agreed with the decision. However, the ECB also indicated that this increase was likely to be the last in this rate-hike cycle. The ECB stated that it considers that the key interest rates have reached levels that, if maintained for a sufficiently long duration, will make a substantial contribution to the timely return of inflation to the target. The ECB President Christine Lagarde did not absolutely rule out a further hike if needed, whilst stating interest rates would have to remain at restrictive levels for some time. The ECB also raised its forecasts for inflation, which is now expected to fall more slowly towards its 2% target over the next two years. Inflation is now seen at 5.6% in 2023, 3.2% in 2024 and 2.1% in 2025. In addition, the ECB reduced its projection for economic growth in 2023 to just 0.7%, although Ms Lagarde did say that there was confidence growth will pick up in 2024.
Economic Growth
In its third estimate, the EU's statistics office Eurostat said the Eurozone economy expanded by 0.1% in the second quarter, a downward revision to its previous estimate of 0.3% growth. The zero growth reading for the first quarter was revised slightly higher to a 0.1% expansion. Household consumption was stable as it was unchanged from the previous quarter, whilst government expenditure rose, having contracted in the first three months of the year. However, exports slumped 0.7% compared with the previous flat reading, whilst imports rebounded having previously fallen. Among the Eurozone's largest economies, Germany stalled whilst Italy contracted 0.4%. There were though expansions in France (0.5%) and Spain (0.4%). On a yearly basis, the Eurozone economy grew 0.5%, slightly slower than the previous estimate of 0.6% and the lowest rate since the contractions in 2020 and the first quarter of 2021.
Inflation
Preliminary estimates showed annual inflation in the Eurozone fell to its lowest level in nearly two years in September. Eurostat said headline consumer prices fell from 5.2% in August to 4.3% in September, the slowest pace since October 2021 and below the forecasted drop to 4.5%. The fall in inflation was broad-based, with all price categories increasing at a slower pace, whilst energy prices dropped for the fifth consecutive month. Core inflation, which excludes prices for energy, food, alcohol and tobacco, declined from 5.3% to 4.5%, the biggest fall since August 2020. Prices increased at a slower pace for services, easing from 5.5% in August to 4.7% in September.
Asia and Emerging Markets
Japan
The Bank of Japan (BOJ) maintained its ultra-low interest rate, whilst stating it will continue to support the economy until inflation sustainably reaches its 2% target. As expected, the BOJ kept its interest rate at -0.1% and the 10-year bond yield at around 0%, whilst also leaving the allowance band of 0.5% either side of the target and the hard cap of 1% unchanged. The BOJ made no changes to its forward guidance, retaining a pledge to "take additional easing measures without hesitation" if needed. The BOJ Governor Kazuo Ueda said Japanese companies were raising prices by more than expected, preventing inflation from slowing, indicating that conditions for tighter policy were gradually falling into place. However, he also stressed the need to spend further time analysing data, particularly wages and services prices, before being in a position to raise interest rates.
The preliminary estimate for economic growth in Japan in the second quarter was revised lower from an annualised 6% expansion to 4.8%, which was beneath the forecasted smaller fall to 5.5%. The main reason for the downgrade was a 1% decline in capital expenditure compared with the preliminary flat reading, which was also a worse drop than the forecasted 0.7% fall. Private consumption, which makes up over half of the economy, dropped 0.6% quarter-on-quarter, slightly worse than the initial estimate of a 0.5% fall. However, exports remained solid in the second quarter, with net external demand adding 1.8% to economic growth, which was unchanged from the initial reading.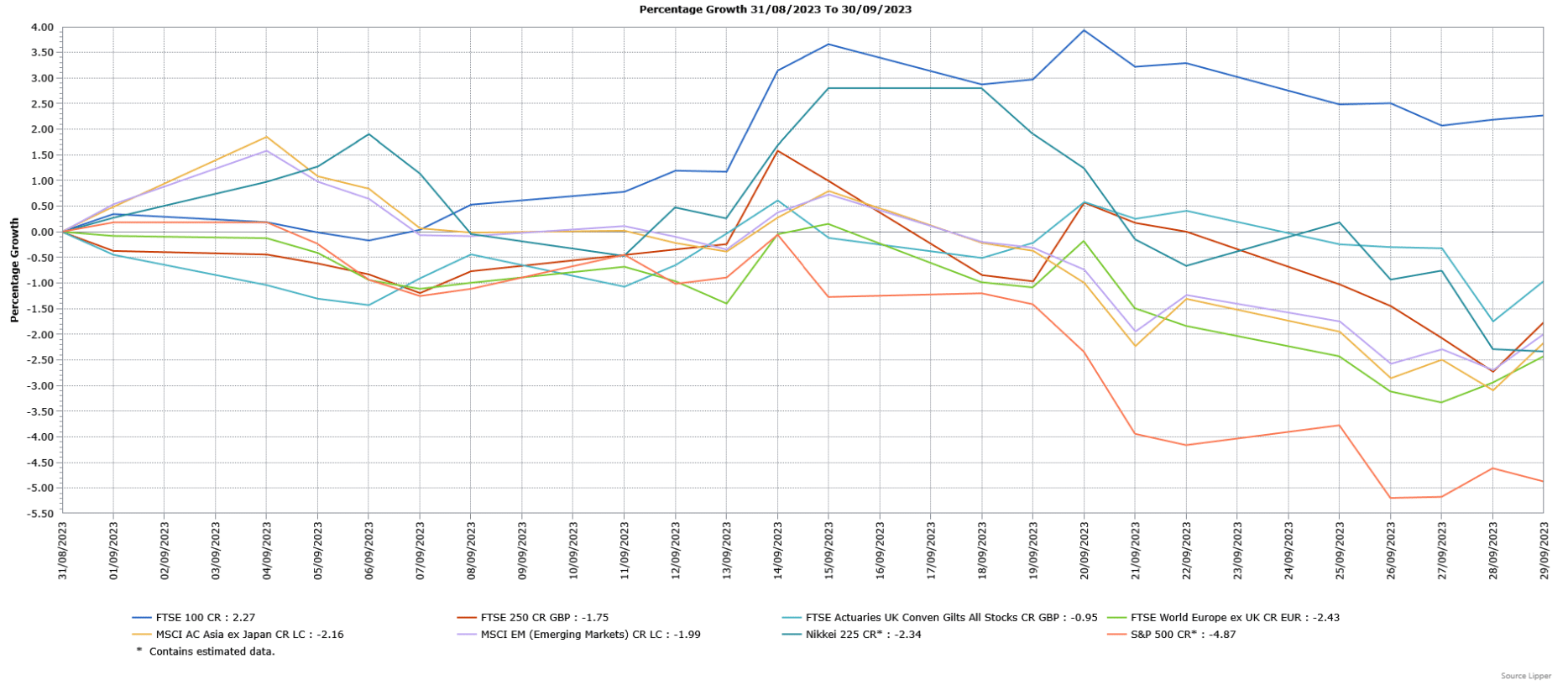 CR = Capital return; LC = Local currency
Source: Lipper for Investment Management
Past performance is not a reliable indicator of future performance
There was mixed performance from UK equities in September, with the FTSE 100 outperforming as it ended the month higher, but there was a loss for the mid cap FTSE 250. The FTSE 100 benefited from better than expected economic data, as well as its much larger exposure to the strongly performing oil & gas and basic materials companies than the FTSE 250 index.
The US S&P 500 finished September with a loss, with investor sentiment hit by the Federal Reserve indicating that interest rates could remain higher for longer than previously expected. European markets, as demonstrated by the FTSE World Europe ex UK Index, suffered losses as economic data showed the Eurozone was slowing, although the energy sector benefited from the rise in oil prices. The Japanese Nikkei 225 also ended the month lower.
The broad MSCI Asia ex Japan Index fell in September, although there were mixed regional performances. Despite signs of improved economic data, the woes in the real estate sector weighed on Chinese equity market performance. Global Emerging Markets outperformed developed markets, although there was still a fall in the broad MSCI Emerging Markets Index. Potentially higher for longer US interest rates weighed on overall sentiment towards Global Emerging Markets, contributing to emerging Asia being the worse performing region. There were also declines in the Latin American and Emerging Europe, Middle East and Africa regions.
UK fixed income assets suffered small falls in September, as markets priced in interest rates remaining higher for longer as they pushed back the potential timing of any cuts. Government bonds (FTSE Actuaries UK Conventional Gilts Index) suffered a slightly bigger loss than investment grade corporate bonds.
This update is intended to be for information only and should not be taken as financial advice.
CA10642 Exp 10/24.